Baby Bea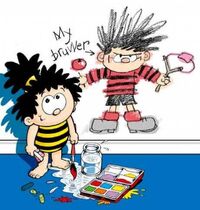 Base of operations
Beanotown
Characteristics
Status
Origin
Origin
Normal human birth
History
Bea, or Beatrice, is a fictional character in the UK comic strip Dennis the Menace and Gnasher, from The Beano. She is Dennis the Menace's little baby sister, born in issue 2931, dated 19 September 1998. She was part of a major storyline which had been going on in the strip for the last few weeks, as part of the comic's 60th birthday. Strange things had been happening, like Dennis' mother feeling sick all the time, and Dennis' father in an unusually happy mood. After his parents refused to tell him what was going on, he refused to appear in the next week's Beano. After various Beano characters tried to take the place of Dennis, he came back and his parents told him of the new arrival. These were the first strips drawn by the new artist David Parkins, who had taken over from the previous artist, David Sutherland.
Parkins had always intended that the character would be called "Bea" (short for Beatrice), taken partly from the comic's name and evidenced in the yellow and black striped romper suit she was seen wearing in her first appearance. However, the comic staff decided to put the name up for vote. The readers seemed to agree with Parkins, as "Bea" won the vote by a nearly two-thirds majority. Dennis' Mum regularly shouts, "Bea! No!" when she does something naughty, the two words evidently making the word "Beano".
In issue 2935 (17 October 1998) her own strip started, called Beaginnings. In this issue she said her first word, "MUD" From issue 3099 onward (8 December 2001) the title has been Dennis's Little Sister Bea - the Mini-Menace (sometimes abbreviated to Bea - the Mini-Menace, or just Bea) a title it still has today. But for five isolated examples, the strip has always been drawn by Nigel Parkinson, who also frequently draws the main Dennis strip. Bea was voted naughtiest baby in Beanotown when she was only a week old, has Gnipper as her dog, and loves playing with Rasher. Issue 2942 (5 December 1998) was a special issue dedicated to her, where she appeared in every strip in the comic. She used to have her own comic strip in The Beano, She shares notable similarities with fellow Beano character, Ivy the Terrible joined Bea in her strip, called Bea and Ivy. She is similar to her big brother, she likes to cause annoyance to other people in Beanotown, but usually does it by farting or making a ghastly smell for the people around her to smell. Bea also has her own comic called The Bea Team.
Links
Discover and Discuss
Community content is available under
CC-BY-SA
unless otherwise noted.