Batman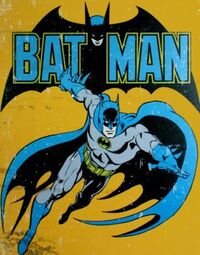 Aliases
The Batman; The Caped Crusader; The Darknight Detective; Matches Malone
Relatives
Thomas Wayne (father, murdered by dastardly criminals, dammit); Martha Wayne (mother, savagely cut down for the sake of a pearl necklace); Thomas Wayne Jnr (deranged older brother, in some accounts); Damian Wayne (son); Helena Wayne (Huntress, daughter on the parallel world of Earth-Two); Selina Kyle (Catwoman, wife (deceased) on the parallel world of Earth-Two)
Base of operations
Stately Wayne Manor
Characteristics
Status
Occupation
Billionaire playboy and vigilante
Origin
Place of birth
Gotham City
First appearance
Detective Comics #27
History
C'mon, you know the story! Orphaned (right before his eyes) as a child by a thug who killed his parents in a mugging gone wrong, millionaire Bruce Wayne dedicated his entire life and much of his inherited fortune to fighting crime in Gotham City, training himself to the peak of physical and mental perfection. After a bat flew in his window, he decided he would undertake his mission dressed as a bat because "criminals are a cowardly, superstitious lot," who would be frightened by it. As you do.
One of the two most recognisable comics characters in the world, the Batman was created in 1939 by Bob Kane and Bill Finger for America's DC Comics (or rather, for the company which would become DC Comics). Though American by birth, the dark-night detective quickly became an international superstar. Reprints of his adventures have been published in Britain in various titles and by various publishers since the 1950s, from the Batman newspaper strip appearing in Smash! (one of the Odhams Power Comics line better known for their reprints of properties like Spider-Man from DC's principal rival Marvel Comics) to solo Batman titles from London Editions Magazines, Atlas Publishing & Distributing Ltd, Panini and Titan Magazines.
The caped crusader has also frequently featured in titles shared with other DC stars such as Superman, Justice League Legends, The Super Heroes Monthly and Heroes, and many British publishers have produced various Batman Annuals.
In the 1990s, he teamed-up with Britain's own Judge Dredd on several occasions. Please follow blue links to individual titles' pages.
See also: DC Comics (British Reprints) and Judge Dredd (DC Comics).
Batman titles
Powers and abilities
Powers
None.
Abilities
Too many to list.
Strength level
Peak human.
Weaknesses
You're joking, right?

Paraphernalia
Equipment
Yes. A cave full of it.
Transportation
Batmobile; Batboat; Batplane; Batcopter; Batcycle; "Batwing".
Weapons
Batarangs.
Links
Discover and Discuss
Community content is available under
CC-BY-SA
unless otherwise noted.