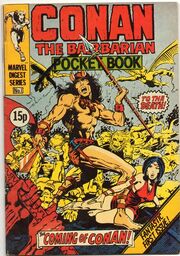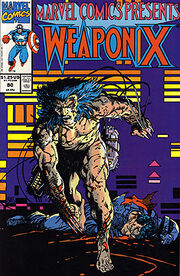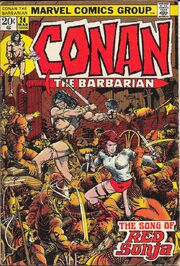 Barry Windsor Smith (born Barry Smith on 25th May 1949) is a comics artist originally from Forest Gate, London. He entered the industry in 1967, producing single page pin-ups of Marvel Comics characters for
Fantastic
and
Terrific
, two of the
Odhams Power Comics
. In 1968, along with artist
Steve Parkhouse
, he flew to the USA to meet with Marvel (having been invited after sending samples to them) and was given work drawing issues of titles including
X-Men, Nick Fury, Western Gunfighters, Daredevil, Tower of Shadows, Avengers
and
Chamber of Darkness
, before in 1970 being offered the character he is perhaps best known for,
Conan
. By 1971, he had moved to the United States (he was granted residential status in 1974). Along with writer
Roy Thomas
, he reworked Robert E. Howard's
Red Sonja
into the character she is today, and he also drew
Ka-Zar, Doctor Strange, Iron Man
and
Kull
, amogst others, before becoming disillusioned with the comics industry in 1972. Changing his name to Barry Windsor Smith (Windsor being his mother's surname) he moved into fine art, and aside from drawing ten pages of a
Captain America
Treasury Edition, did no more comics work until 1983.
Following a diverse and largely successful career elsewhere, Smith returned to mainstream comics in 1983, working for Marvel on Epic Illustrated, Marvel Fanfare, Uncanny X-Men, Machine Man, Daredevil, Iron Man and Fantastic Four. He also drew a small piece for Dave Sim's creator owned title Cerebus, as well as contributing to DC Comics' charity one-shot Heroes Against Hunger (featuring Superman and Batman) and to the comics anthology A1 published by Atomeka Press. His last regular Marvel Comics work for some time, following a single issue of Excalibur in 1990, was the serial Weapon X in Marvel Comics Presents in 1991, which explored the origins of Wolverine. He then worked extensively for Valiant Comics (notably on Archer and Armstrong) and later for various other companies including Malibu, Image and Dark Horse. He returned to Marvel's X-Men universe in the early 2000's, but has produced no mainstream comics work since 2006, though various projects were said around that time to be in development.
Community content is available under
CC-BY-SA
unless otherwise noted.