Baron Ironblood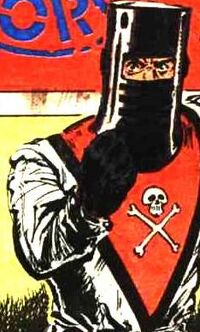 Current alias
Baron Ironblood
Characteristics
Status
History
Little is known of the background of Baron Ironblood, but he is thought to be of Swiss descent and an actual Baron. He was a brilliant military strategist with a hunger for power, who commanded a deeply loyal force of international terrorists called the Red Shadows, led by his right-hand man the Black Major. Ironblood and his forces repeatedly clashed with the peacekeeping organisation Action Force. Later however, according to one account, Ironblood betrayed the Red Shadows to the U.N., leading to their destruction, and went into hiding before reappearing with a new identity as 'Cobra Commander' and forming the new organisation Cobra. The Black Major later led the surviving Red Shadows in an attempt at revenge on their former leader.

Powers and abilities
Abilities
Strategic skills; leadership skills.
Strength level
Human male who gets regular exercise.

Paraphernalia
Transportation
Robo-Skull.
Weapons
Uzi 9mm.

Notes
Ironblood's becoming Cobra Commander was an attempt at tying two separate continuities together, and is not regarded as canonical in the American G.I. Joe titles which effectively swallowed up Action Force.

Trivia
Ironblood made most of his appearances in Battle Picture Weekly.
Links
Discover and Discuss
Community content is available under
CC-BY-SA
unless otherwise noted.