Baby Grumpling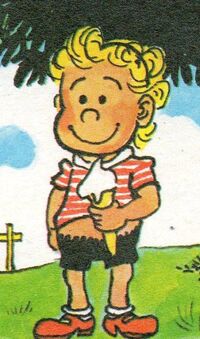 Current alias
Baby Grumpling
Relatives
Maisie
(sister); unseen mother; Aunt Edna; Aunt Aggie
Base of operations
Croynge
Characteristics
Status
Education
Not yet started
Origin
First appearance
Last appearance
History
Baby Grumpling (real first name unknown) is a toddler with a fearsome intellect which nonetheless has a tendency to let him down when trying to grasp some of the simpler concepts in life. He believes that school (which he is not old enough to attend) is a prison in which his sister Maisie and her friends are incarcerated every day. He also believes that worms are part of a healthy, nutritious diet (in fact, this may well be true, but only if you really haven't got anything else) and that if he digs deep enough, he'll reach Australia. He digs a lot of holes, when he isn't embarking on some improbable business venture or other (usually worm-related; he invented the wormburger, for instance, though nobody but Wellington ever bought one, and Wellington didn't initially believe it had real worms in it).

Powers and abilities
Abilities
Picking holes in the nursery rhymes and fairy stories Maisie reads to him.
Strength level
Human toddler who gets regular moderate exercise.
Weaknesses
Can't reach high shelves.

Paraphernalia
Equipment
Spade (for digging holes); teddy bear called Gladly My Cross-Eyed Bear.
Transportation
Spacehopper.
Weapons
See transportation.

Notes
Baby Grumpling's unwilling confidant is the Grumplings' youngest child, known only as 'new baby'. It's unclear if said baby has any other name, or even what sex they are. They communicate only through incoherent burbling noises, and all that is ever seen of them is the large black hooded pram which presumably holds an infant somewhere in its depths.
Baby Grumpling's speech is rendered entirely in lower case, including those words which would normally be capitalised (e.g. proper nouns and the first person singular).

Trivia
Baby Grumpling's mother is never depicted in the strip, but she occasionally speaks off-panel.
Links
Discover and Discuss
Community content is available under
CC-BY-SA
unless otherwise noted.