Baby-Face Finlayson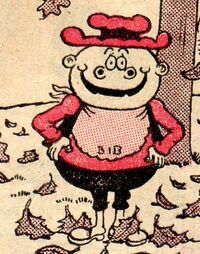 Current alias
Baby-Face Finlayson
Characteristics
Status
Origin
History
"Baby-Face" Finlayson (tagline: The Cutest Bandit Around) is a long-running Beano character who would go about trying to steal things for himself, usually sweets or toys. He is depicted as a baby wearing cowboy clothes. He has a motorised pram to help him get around. He is friends with Sid the Kid and sometimes lives with Mumsie-Face.

Powers and abilities
Abilities
Petty larceny.
Strength level
He's a baby. What do you think?

Paraphernalia
Transportation
Motorised pram.

Notes
Baby-Face debuted as a supporting character in Little Plum before getting his own strip.

Trivia
For a short time, Baby-Face's adventures were moved from the Wild West to Britain, but he was eventually posted back to America by the Beano editor.
Baby-Face Finlayson is probably named after Baby Face Nelson, a gangster from the USA who was active in the 1930s.
Links
Discover and Discuss
Community content is available under
CC-BY-SA
unless otherwise noted.