B.L.A.I.R. 1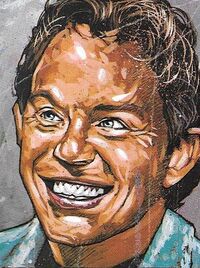 Real name
Anthony Charles Lynton Blair
Current alias
B.L.A.I.R. 1
Base of operations
Britain
Characteristics
Status
Occupation
Biotronic Prime Minister
Education
Fettes College; St John's College, Oxford
Origin
History
When Labour swept to an amazing victory in 1997, incoming Prime Minister Tony Blair made a fateful decision: he had himself altered by means of the same Compu-Pucture Hyperpower technology which had created M.A.C.H. One into Britain's first Biotronic Prime Minister! Aided by the computer intelligence named Doctor Spin, which was implanted in his brain, B.L.A.I.R. 1 set out to make Britain safe for honest (and dishonest) rich people and politicians, by systematically removing the under-classes who polluted his country.
Eventually, Blair's own long-buried conscience began to rebel against Doctor Spin's control, and the two sides of B.L.A.I.R. 1's mind, one electronic, the other (more or less) human, fought each other. B.L.A.I.R. 1's systems shut down and he died on an operating table after seeing a horrific vision of Britain's future under New Labour — but ultimately, it was God himself who blew Blair's mind. Doctor Spin, however, survived and the government prepared to find him a new host body...

Powers and abilities
Powers
Biotronic vision.
Abilities
Getting elected.
Strength level
Above human normal.

Notes
B.L.A.I.R. 1's eyes glowed red when he used his powers.
B.L.A.I.R. 1 was one of 2000 AD's most controversial strips, being heavily featured in the tabloids every time it appeared. B.L.A.I.R. 1 was eventually killed off by popular demand in 2000 AD prog 1098. He featured in just four stories, in progs 1034, 1071-1074, 1084 and 1097-1098. All but the first were written by Alan Grant.
Links
Fan-Art Gallery: B.L.A.I.R 1
Discover and Discuss