B.H.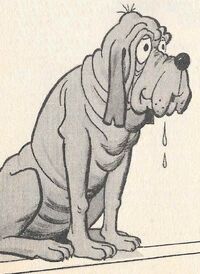 Real name
B.H. (Calcutta) Failed
Base of operations
Croynge
Characteristics
Unusual features
He's a dog
Status
Origin
First appearance
Last appearance
History
B.H. is a bloodhound and a friend of both Boot and the female Bassett hound Tatty Oldbitt, who inexplicably claims to be a reporter for the West Croynge Clarion & Dubious Advertiser. His catchphrase is "Any news for the newshound?" and he spends much of his time taking notes on his pad (the one on his left front paw) while trying to work innocuous remarks made by his friends up into salacious and sensationalist news stories.
He also has a tendency to try to purloin Boot's bones.

Powers and abilities
Abilities
B.H.'s tongue is extraordinarily long, which means he can lick Boot's bones from a distance of several feet.
Strength level
Bloodhound who gets regular light exercise.
Weaknesses
As a bloodhound he's utterly useless, being completely unable to track anything because he has no sense of smell.

Notes
B.H. has a marked Indian 'accent'.

Trivia
B.H. was a regular supporting character in The Perishers.
Links
Discover and Discuss
Community content is available under
CC-BY-SA
unless otherwise noted.