Azure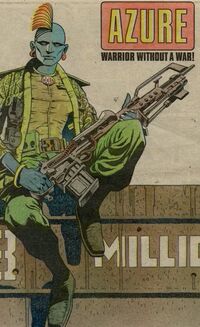 Affiliation
Genetic Infantry
Base of operations
Milli-Com
Characteristics
Status
Occupation
Secretarial duties
Origin
Origin
Product of genetic engineering
History
Azure was a 'G.I. Doll', a female member of the Genetic Infantry employed to perform administration tasks aboard Milli-Com, the orbital headquarters of the Souther army fighting the war on Nu Earth. She was briefly engaged to be married to the G.I. named Helm before his newly cloned body disintegrated on their wedding day. This was caused by a breakdown of enzyme E, a protective protein vital in the re-gening process, which in turn was caused by a virus Helm had picked up in the Neverglades.
Azure later betrayed the Rogue Trooper in revenge for his taking Helm into danger. (He had lied to her and told her that their expedition to the dangerous planet Horst to look for an antigen for the virus was authorised, when in fact he was going AWOL... again.) Azure's betrayal took the form of deleting information on Horst and the antigen from Rogue's computer, which was fortunate because it meant that Rogue and his buddies had to wander aimlessly over the planet just like they'd done over Nu Earth, thus prolonging the story for another dozen or so episodes. (But how she thought that going into a hostile environment with absolutely no helpful information would make Helm safer is anybody's guess.)
Azure forgave Rogue when he returned Helm in one piece. She then sacrificed her life to save the three biochip buddies, and the antigen, from attacking aliens.

Powers and abilities
Abilities
Secretarial skills.
Strength level
Peak human female.
Weaknesses
Created by a sexist society that apparently thinks women are only good for typing.
Links
Discover and Discuss
Community content is available under
CC-BY-SA
unless otherwise noted.