Auntie Daisy, the School Meals Lady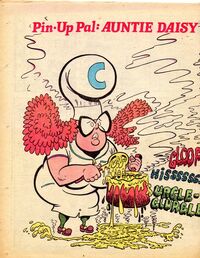 Current alias
Auntie Daisy, the School Meals Lady
Characteristics
Origin
History
Auntie Daisy the School Meals Lady worked at the school attended by Cheeky. She was known for her terrible cooking.

Powers and abilities
Weaknesses
Cooking

Paraphernalia
Weapons
Ladle

Notes
Auntie Daisy wa a regular member of Cheeky's Supporting Cast in Cheeky Weekly.
Links
Discover and Discuss
Community content is available under
CC-BY-SA
unless otherwise noted.