Au Taween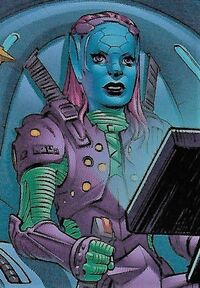 Relatives
Father (deceased)
Characteristics
Status
Origin
History
Au Taween is a character from the Titan Comics version of Dan Dare. She is an alien who is apparently the last survivor of the people of Si-Lawn, a planet in another galaxy which was wiped out by the Treens (the planet, that is, not the galaxy). Au Taween responded to this by stealing a spaceship and spending the next five years of her life hunting the Treens, which eventually led her to the Milky Way galaxy and a meeting with Dan Dare and his crew. Dare considered her "magnificent"; she considered him an idiot.

Powers and abilities
Abilities
Flying a spaceship; armed and unarmed combat.
Strength level
Formerly fit young female alien debilitated by spending five years fighting the Treens and barely stopping to sleep.
Weaknesses
Extremely arrogant; blinded by hatred.

Paraphernalia
Equipment
Her ship's sentient computer.
Transportation
Stolen spaceship.
Weapons
Her ship's lascannons.

Trivia
Au Taween's people appear to have been matriarchal, as she automatically assumed that Professor Jocelyn Peabody was the captain of the Anastasia (Dan Dare's ship). Her response when Dare introduced himself as the captain was, "A male captain. Very liberated, I'm sure."
Links
Discover and Discuss
Community content is available under
CC-BY-SA
unless otherwise noted.