Assassin-8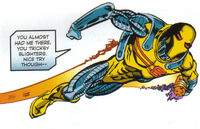 Base of operations
London
Characteristics
Unusual features
Booth's lower jaw, right arm and and other unspecified body parts were cybernetic
Status
Occupation
Mercenary; assassin
Origin
History
Andrew Booth was a former mercenary soldier almost killed by an explosion in Angola. He was rebuilt by persons unknown as a cyborg killer renamed Assassin-8, and became a professional hit-man. Later, an unknown man convinced the mentally unstable Booth that Spider-Man, who was then visiting Britain in order to appear on the TV show Saturday Starship, was responsible for the explosion that had taken his humanity, and sent him after Spider-Man as a way of testing the hero for reasons of his own. Spider-Man escaped after damaging Booth's bionic arm. Fighting Spider-Man again days later in the London Underground system, Booth stumbled onto the live rail and was apparently killed instantly by the huge electric charge conducted through the metal in his body.
Assassin-8 somehow survived or was resurrected and fought Captain America and Captain Britain at the Darkmoor Research Centre years later while trying to steal a project being worked on by Dr Travis for his new employers, the Secret Empire. The Empire and their head of European operations, Arnim Zola, had apparently promised to transfer Booth's mind into a new, totally human body in return for his services, but Booth (who was by now completely deranged) was defeated and jailed (according to official Marvel Universe continuity however, this story was set in a parallel universe, so the original Booth may still be dead).

Powers and abilities
Powers
Booth was a cyborg with a variety of built-in gadgets including rocket thrusters in his legs which enabled him to fly.
Abilities
Superior combat skills.
Strength level
Superhuman.
Weaknesses
Booth was totally insane.

Paraphernalia
Equipment
Various.
Weapons
Blasters and projectile weapons including harpoons in his forearm casing.

Notes
The 'Spider-Man in Britain' story which introduced Assassin-8 ran in Spider-Man #607 to #610 (1984) and was an experiment intended to determine if readers would respond well to UK-originated stories, in case younger readers objected to Spider-Man's switch to a new black costume in the US stories which Marvel UK were then reprinting. The same story also introduced Thunderclap, who has since been seen in at least one Marvel US title. Since the story was never followed up on, we never learned the identity of Assassin-8's employer.
Links
Discover and Discuss
Community content is available under
CC-BY-SA
unless otherwise noted.