Armoured Gideon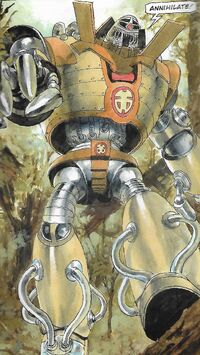 Real name
Armoured Gideon
Affiliation
The Silent Ones
Characteristics
Unusual features
He's a robot
Status
Occupation
Guardian of reality
Origin
Origin
Created by the Silent Ones
History
"Armoured Gideon — a mechanical ghost-buster from the Carran — abode of demons. 'The Edge' for short. Created by the Silent Ones — the ones who walk the space between the moments — to keep the temporal plane clear of supernatural interference."
The eponymous star of the 2000 AD strip Armoured Gideon is a big robot who annihilates demons, and "Annihilate" is the only thing he ever says. Gideon was originally one of two such robots, but his partner Armoured Jerubaal (catchphrase: "Obliterate") turned against Gideon and was overcome by the creatures of The Edge before being buried on Earth.
When Jerubaal reawakened and sought revenge, Gideon came to Earth and destroyed him but in doing so came to the attention of psychic photographer Frank Weitz, who pursued him thereafter. At one point, Weitz's involvement with Gideon led him into an encounter with the apparently deranged Bill Savage and Harry Angel, amongst others (including Wolfie Smith, Black-Hawk, Shako, Harry Twenty, Rick Random, Meltdown Man and Agent Rat), who ultimately proved to be ghosts.
Gideon returned in 2018, making a surprise reappearance in The Order, and was possessed by the digitised consciousness of Clara Weitz.

Powers and abilities
Abilities
Killing demons.
Strength level
Superhuman.
Weaknesses
Terrible conversationalist.

Notes
Gideon appeared in 2000 AD progs 671 to 681, 722, 828 to 840, 889 to 899 and 928 to 935, as well as the 1990 2000AD Sci-Fi Special. He also had a one-panel cameo in 2000 AD prog 2000 (published September 2016), where he was drawn by Colin MacNeil.
Links
Discover and Discuss
Community content is available under
CC-BY-SA
unless otherwise noted.