Arbatov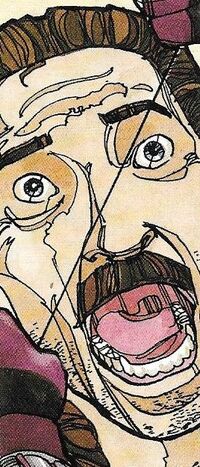 Base of operations
Russia
Characteristics
Origin
History
The Arbatovs are characters from the 2000 AD strip Nikolai Dante. They were a high-born family with a proud military tradition who served the empire of Tsar Vladimir in the 27th century. Unfortunately, when one Captain Arbatov (pictured) fell foul of the thief and adventurer Nikolai Dante it proved to be the beginning of a run of bad luck that would affect much of the family. Arbatov caught Dante in bed with an imperial seductress and came off the worse while trying to teach him the error of his ways, despite having an entire squad of hussars at his disposal. He and his men were punished for their failure to arrest Dante, which made the Tsar's elite troops look pathetic, and for the fact that Arbatov had been enjoying the charms of an imperial seductress while he was courting the Tsar's beloved daughter Jena Makarov. The penalty that the Tsar thought reasonable and proportionate in these circumstances was for Arbatov and his subordinates to be flayed alive.
Several family members including Grigori Arbatov, Andrei Arbatov, Rudy Arbatov and a couple of other Captains Arbatov all met unpleasant fates while later attempting to revenge themselves on Dante for the damage done to their family name. Isabelle, Juliet and Ophelia Arbatov also encountered the thief, but fared little better.

Powers and abilities
Abilities
Allegedly, swordsmanship.
Strength level
Not enough.
Weaknesses
Paraphernalia
Equipment
Fancy but not very protective uniforms.
Weapons
Swords.

Notes
The ill-fated Arbatovs were something of a running gag in the Nikolai Dante series.
Links
Discover and Discuss
Community content is available under
CC-BY-SA
unless otherwise noted.