Aquila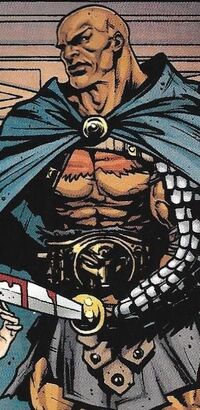 Aliases
Slave of the Devourer; Hunter of Men; Taker of Men's Souls; Man Without a Soul
Base of operations
Roman Britain
Characteristics
Unusual features
Roman eagle carved into his chest
Status
Occupation
Reaper of souls
Origin
Origin
Diabolical intervention
History
The eponymous protagonist of the 2000 AD strip Aquila was a former slave turned gladiator crucified in 71 BC following the failed revolt of the legendary Spartacus. Crying out for vengeance as he died a slow and painful death, he was saved by Ammit the Devourer, who took his soul but granted him invulnerability in return for sending her the souls of evil men by killing them. More than 130 years later, Aquila discovered he was neither the first nor the only man chosen to serve the Devourer in this way when he encountered and battled the man known only as the Spartan.
It is Aquila who is responsible for the dominant god in Rome becoming the "carpenter god" rather than a deified Emperor Nero (see Carnifex in 2000 AD progs 1890 to 1899). Nero wanted Aquila to act as his 'carnifex' or butcher by collecting the heads of seven Roman deities, the material the psychotic emperor needed for his apotheosis. Aquila had other plans — which were, however, no less sanguinary.
Aquila hangs out with a sneaky little spiv called Felix who regards him as his "meal ticket."

Powers and abilities
Powers
Invulnerability; no locks, binds or fetters can hold him (which apparently includes the power to break down any door); won't age or die until his debt to the Devourer is paid; can see the evil in men's souls; doesn't need to sleep.
Abilities
Fighting skills.
Strength level
Strong enough to smash a huge golem into pebbles using only a sledgehammer (2000 AD prog 1892).
Weaknesses
Can be temporarily incapacitated by poison.

Paraphernalia
Weapons
Sword.

Notes
Aquila is thematically (and physically) very similar (read: almost identical) to the earlier Black-Hawk, which is apparently not entirely coincidental. 'Aquila' is Latin for 'eagle'.

Trivia
Aquila had a cameo in 2000 AD prog 2000 (published September 2016) which was drawn by Boo Cook. He was shown picking a fight with Shakara.
Links
Discover and Discuss
Community content is available under
CC-BY-SA
unless otherwise noted.