Aquaman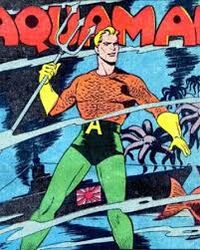 Base of operations
The Sea
Characteristics
History
Depending on which version of his origin story you choose to believe, Aquaman was either a) given the ability to breathe underwater by his scientist father, b) the son of a Princess of Atlantis and lighthouse keeper Tom Curry, raised in a lighthouse, or c) the son of a wizard and an Atlantean Princess, raised by either Tom Curry or a school of Dolphins. Other origins may well be available. Anyway, whoever he started out as, Aquaman ended up as the King of Atlantis, and a member of the Justice League of America by virtue of being the world's most prominent undersea crimefighter (though how much crime there actually is under the sea, I don't know).

Powers and abilities
Powers
Able to telepathically communicate with and command sea life (essentially, he talks to fish).
Abilities
Can breathe underwater or on land
Strength level
Superhuman
Weaknesses
Needs to be immersed in water at regular intervals or he'll die.

Paraphernalia
Transportation
Once rode a giant seahorse called Storm (his junior partner Aqualad rode one called Imp).

Notes
Aquaman is an American character, but has appeared intermittently in British reprints for decades, both in solo stories and as part of the Justice League. His appearances include issues of the Superboy Annual, The Super Heroes Monthly, Superadventure Annual, Justice League Annual and DC Spotlight Vol 1 5.

Trivia
Aquaman's original 1940's incarnation (the guy who was experimented on by his dad!) can be differentiated from his revised 1950's incarnation (the lighthouse keeper's son) by the fact that the earlier version usually wore yellow gloves rather than the later green ones. Of course, since most British reprint comics pre-1980's were in black and white anyway, that may not be particularly helpful...
Links
Discover and Discuss
Community content is available under
CC-BY-SA
unless otherwise noted.