Apeslayer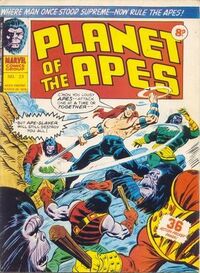 Base of operations
Mobile
Characteristics
Unusual features
Jonathan Dozer coincidentally closely resembles the Martian-battling warrior Jonathan Raven, AKA Killraven.
Status
First appearance
Last appearance
History
In an alternate future curiously similar to that of Marvel's Martian-hunting future warrior Killraven, bionic simian aliens from Mars invaded an Earth devastated by nuclear war and subjugated humanity using tripod war machines, with brainwashed humans known as the Generals maintaining order for them. A General named Raker, put in charge of training gladiators to fight for the Apes amusement, secretly trained a young boy named Jonathan Dozer to be his weapon against the invaders. Escaping before his training was complete after defeating the Ape named Warlord, Dozer became Apeslayer, leader of a band of Freeman dedicated to overthrowing the invaders. Six years later, Dozer repaid Raker's faith in him by killing him, unaware that Raker had been planning on freeing him all along anyway. The dying Raker revealed Dozer's history to him, and told him he had powers which would help him defeat the Apes, but unfortunately perished before he could tell him what they were. Apeslayer faced Warlord again but ultimately let him go after defeating him in battle. It is unknown whether Apeslayer and his band ever succeeded in overthrowing the Apes.

Powers and abilities
Powers
Unspecified.
Abilities
Superior combatant.
Strength level
Normal human.
Weaknesses
What weaknesses does Killraven have? Apeslayer probably coincidentally has them, too.

Paraphernalia
Weapons
Various swords, knives and blasters.

Notes
The Apeslayer series was actually an American Marvel Killraven strip partially redrawn and re-lettered as an emergency measure when the British Planet of the Apes weekly ran out of US-originated Planet of the Apes strips to reprint. It ran for just eight issues, issues #23-30. Apeslayer is technically the first ever Marvel UK-originated character.

Trivia
In terms of the official Marvel Universe cosmology, Apeslayer's adventures take place on the alternate Earth designated Earth-7841 (the mainstream Marvel Earth is Earth-616, while Killraven exists on Earth-691).
When Marvel UK eventually began reprinting the original Killraven series in Star Wars Weekly, one reader complained that they had 're-drawn Apeslayer, with Martians'.
Links
Discover and Discuss
Community content is available under
CC-BY-SA
unless otherwise noted.