Anthrax Ghoulshadow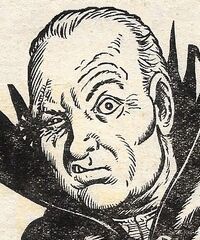 Real name
Stig Rutterblug
Current alias
Anthrax Ghoulshadow
Characteristics
Unusual features
One hand
Status
Education
Famous Villains Training School
Origin
Origin
Answered advertisement
History
Things were looking grim for unemployed veeblefetzer repairman Stig Rutterblug, until he noticed an ad in the Crab Nebula Clarion which read "we're looking for people who sincerely want to rule the universe". Answering it, Stig found himself enrolling at the Famous Villains Training School, being schooled in the arts of intergalactic villainy by Mr. Direfang Dreadspawn. Rebranded as "Anthrax Ghoulshadow" (and after a minor operation to replace his left hand with a metal claw) the initially hesitant Stig successfully reinvented himself as a moderately successful galactic despot, and was last seen (as he waited for the rebel forces to lynch him) philosophically observing that "the wages of sin are death, but the hours are good and the perks are fantastic".

Paraphernalia
Equipment
Metal claw.

Notes
Anthrax Ghoulshadow was introduced in The Wages of Sin, an installment of Tharg's Future Shocks.
Links
Discover and Discuss
Community content is available under
CC-BY-SA
unless otherwise noted.