Henry Pym
Ultron
Aliases
Ant Man; Giant-Man; Goliath; Yellowjacket; Wasp; Dr Pym, the Scientific Adventurer
Relatives
Maria Troyvana (wife, deceased);
Janet Van Dyne
(AKA the Wasp, wife, divorced); Nadia Pym (daughter)
Characteristics
Unusual features
Variable size
Status
Occupation
Scientist; crimefighter
Origin
History
Ant Man is an American scientist who has discovered a means of reducing his size with a special gas and communicating with ants. He brought crooked businessman Charles Harrington to justice after Harrington tried to rob his own company with a stolen teleportation device (see Hulk Comic #48-49).

Powers and abilities
Abilities
Size changing; ability to command insects.

Paraphernalia
Transportation
Flying ant.

Notes
Though Ant Man is of course an American character, he featured in a British-produced story by Steve Moore and Steve Dillon in Hulk Comic #48-49, which appeared to be set early in his career. The same title also reprinted his original American series and his short lived 1970s series from 'Marvel Feature'.
A version of Ant Man who inexplicably seemed to be based in Britain appeared in the Marvel Story Book Annual published some years earlier. Ant Man also appeared in reprint titles from Alan Class Publishing, as well as Odhams short lived title Terrific.
Ant-Man has also gone under various other names and identities over the years, including Giant Man, Goliath and Yellowjacket. Later still, he was unwillingly merged with his homicidal robot creation, Ultron.
Henry Pym was later replaced as Ant Man by burglar Scott Lang, who stole his suit but was allowed by Pym to keep it (scroll down for more info).

Trivia
In the Marvel UK-originated strip, artist Steve Dillon slightly altered Ant Man's costume, giving him flared gloves and buccaneer boots instead of his original skin-tight boots and gloves.
Links
Discover and Discuss
Scott Lang
Ant Man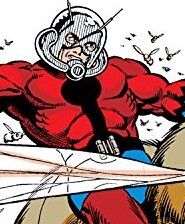 Relatives
Cassie Lang (daughter)
Characteristics
History
Scott Lang was a burglar with a natural talent for defeating security systems who stole the Ant Man equipment designed and created by Henry Pym in order to use it to save the life of his daughter, Cassie, who had a serious heart condition. He ended up using the costume to thwart a criminal mastermind, in return for which, Pym allowed him to keep it. Lang has since had a lengthy career as a superhero, fighting alongside the Avengers, the Fantastic Four and the Guardians of the Galaxy. At one point, he died (see Avengers Disassembled Vol 1 1) but he later got better.

Powers and abilities
Powers
Able to change size at will.
Abilities
Communicating with ants.

Paraphernalia
Transportation
Flying ants

Trivia
Scott's daughter Cassie eventually became the superhero Stature, using her father's size changing abilities.
Links
Discover and Discuss
Community content is available under
CC-BY-SA
unless otherwise noted.