Andreas Romanov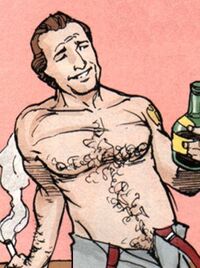 Real name
Andreas Romanov
Characteristics
Status
Origin
History
Andreas Romanov is a character from the 2000 AD strip Nikolai Dante. He was one of the children of Dmitri Romanov and his sister(!) Jocasta, and like all his siblings (except younger brother Arkady) was bonded with an alien Weapons Crest which gave him unique abilities. Unlike most of his family, Andreas, although an inveterate womaniser and party animal, was basically a decent guy. He was also the only one of the family who immediately accepted and formed a close bond with his father's bastard son Nikolai Dante, with whom he had much in common. Predictably, therefore, he was one of the first of the Romanov siblings to die, leaving Dante minus both a brother and a friend...

Powers and abilities
Abilities
Andreas' Weapons Crest allowed him to generate "bio-blades" which he could throw with pinpoint accuracy (when he was sober).
Strength level
Debauched human male enhanced with alien technology.
Weaknesses
Wine, women and song.

Paraphernalia
Weapons
Weapons Crest.
Links
Discover and Discuss
Community content is available under
CC-BY-SA
unless otherwise noted.