Amtrak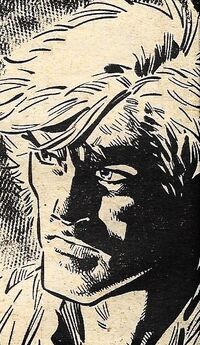 Base of operations
Earth (...or is it?)
Characteristics
Unusual features
Occasionally
Status
Origin
Origin
Cloned from space demon
Place of birth
The Prairie Drifter, a spaceship
First appearance
Last appearance
History
Amtrak is the protagonist of the 2000 AD strip Return to Armageddon. At his best, he is a handsome square-jawed adventurer on a mission to save the world from his evil twin, The Destroyer. At his worst, he has been warped by the Destroyer into a hideous, deformed parody of a human being, wracked by permanent agony and yet unable to die. It all depends whether or not you catch him on a good day.
Our hero's story begins when two mysterious babies are cloned from the body of a 'demon' found floating in space by Captain Atlanta Watts. One of the twin boys grows into the blonde-haired human named Amtrak, but his brother becomes a demonic satyr-like being called the Destroyer, who is unfortunately both malevolent and endowed with supernatural powers.
Suffering numerous complications along the way (such as being abducted by a space pirate named Havoc, being transformed into an immortal in constant pain, and being vivisected by robot anthropologists) Amtrak and his companions, the girl Eve and the robot Seeker, eventually defeat the Destroyer. They then settle on a world which looks suspiciously like an uninhabited Earth, where Amtrak — now predictably renaming himself 'Adam' — and Eve prepare to restart the human race.
The whole story is very reminiscent of certain chunks of the Bible, with Adam and Eve's new Garden of Eden even infested with its very own serpent (the last surviving remnant of Havoc's snake-haired second-in-command). It is left seemingly deliberately unclear whether the story takes place in Earth's future, its past, or somehow both!

Powers and abilities
Powers
Can 'merge' with the Destroyer.
Abilities
Endurance; acting as a human shield for his robot, Seeker.
Strength level
At best, peak human male.
Weaknesses
Is sometimes infested with microscopic organisms that 'eat' him as fast as his body can regenerate, which means he is permanently in intense pain.

Paraphernalia
Equipment
Time-lapse belt which can bring people back from the dead. (He used it to trick the Destroyer into thinking he'd killed Eve.)
Transportation
Spaceships.
Weapons
Phasers (on spaceship); sword.
Links
Discover and Discuss
Community content is available under
CC-BY-SA
unless otherwise noted.