Ampney Crucis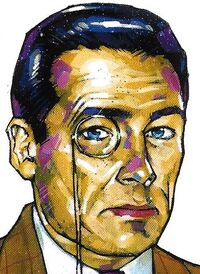 Aliases
Lord Ampney Crucis
Affiliation
Eddie Cromwell (butler)
Relatives
Faith, Hope, Charity and Grace (aunts); Zuleika (mother, deceased)
Base of operations
The home counties
Characteristics
Unusual features
Monocle; two wooden feet
Status
Occupation
Paranormal investigator
Education
Fee-paying school
Origin
Origin
Met an eldritch abomination
History
Lord Ampney Crucis, the eponymous protagonist of the 2000 AD series Ampney Crucis Investigates, was an army officer in World War One. An encounter with an eldritch Lovecraftian abomination in No Man's Land drove him temporarily insane (he was nursed back to health by his aunts), and left him with the power to both sense and resist the influence of the abomination's kin during their incursions into our mundane reality. Since then he has made it his unofficial mission to drive all such horrors back to the extra-universal void that spawned them, aided by his loyal butler Eddie Cromwell and his chauffeur Miss Lorelli.
In his first recorded investigation Ampney helped to destroy what looked like a massive sentient plant that wanted to become Empress of the human world and was trying to accomplish its goal by turning people into giant bees (including Lord Ronald Wykes, the husband of Ampney's former fiancée Calliope). His second case concerned the defeat of the War Child, an even more hideous entity that fed on humanity's darkest emotions and resembled a gargantuan embryo built from corpses.

Powers and abilities
Powers
Increased sensitivity to certain paranormal entities and influences; also immunity to such influences, which can extend to people in close physical proximity to him.
Abilities
Being suave and debonair; having lots of money.
Strength level
Human male who gets regular exercise (running from or towards other-worldly horrors).
Weaknesses
Two wooden feet; night terrors.

Paraphernalia
Equipment
Grappling hook and line (birthday present from Aunt Faith). Also, see weaknesses.
Transportation
Car (registration AC1) driven by his chauffeur, Miss Lorelli.
Weapons
Webley handgun.

Notes
Ampney Crucis Investigates is set in the same universe as The Red Seas, Stickleback, Leviathan and Helium (which may depict an alternative future). Ampney's first recorded adventure involved Lord Ronald Wykes (deceased), who was on the board of the shipping company that built Leviathan. The next one centred around a descendant of Leonard Chipps, one of the police officers who investigated Stickleback.

Trivia
Ampney Crucis is also the name of a village in the Cotswolds. It is named after the Ampney brook, which flows through it, and the local church, which is dedicated to the Holy Cross ('crucis' is Latin for 'cross').
Ampney's mother, Zuleika, was a famous society beauty. She died in an unfortunate incident with a hippopotamus, which presumably was immune to her charms.
Ampney had a cameo in 2000 AD prog 2000 (published September 2016) which was drawn by Boo Cook. He was shown enjoying a nice cup of tea.
Links
Discover and Discuss
Community content is available under
CC-BY-SA
unless otherwise noted.