Amanda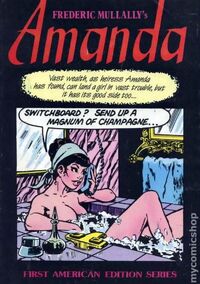 Relatives
Wiley; Hunk (cousins)
Characteristics
Origin
History
Amanda was the heiress to the world's largest private fortune, and following the death of her father she became the ultimate teen rebel, having all the fun she had missed while growing up in a gloomy old castle. Along with her sidekick Kiki, a former thief, she set out to spend, spend, spend, and had a number of crazy adventures over the next year, including getting mixed up in a Mafia plot to control Italian nudist beaches while trying to buy a title, launching an ill-fated career as a pop star, and getting involved with a burglary ring. She tangled with evil communists (are there any other kind?) behind the Iron Curtain, was involved in a revolution in the banana republic of Costa Larga, infiltrated the "Miss Sex Object" beauty contest in order to sabotage it from within, and just generally had a very, very good time.

Powers and abilities
Weaknesses
Seemed to have difficulty keeping her clothes on for long.
Links
Discover and Discuss
Community content is available under
CC-BY-SA
unless otherwise noted.