Aluine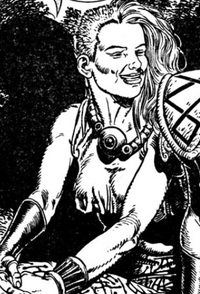 Characteristics
Status
Origin
Origin
Normal human birth
History
Aluine, a character from the 2000 AD strip Sláine, was a member of Sláine's tribe the Sessair. Nicknamed Aluine the beautiful, she was lusted over by both man and Fomorian alike.
Late one night after Sláine's return to the tribe, Aluine was seen talking to Mongan Axehead when a Fomorian tax collector and several soldiers arrived and attempted to take Aluine and two other women with them as payment. Seeing his men willing allow this to happen angered Sláine, causing him to lash out and kill the soldiers before shoving his fist down the tax collector's mouth and pulling out his heart.

Powers and abilities
Abilities
Being drop-dead gorgeous.
Strength level
Young human female who gets regular moderate exercise.
Links
Discover and Discuss
Community content is available under
CC-BY-SA
unless otherwise noted.