Alice Obiefune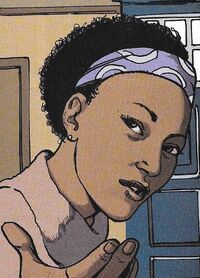 Real name
Alice Uwaebuka Obiefune
Current alias
Alice Obiefune
Relatives
Ada Obiefune (mother, deceased); Uwaebuka Obiefune Ijezie (father, deceased)
Characteristics
Status
Occupation
Library assistant
Origin
Place of birth
Hackney, London, UK
History
Alice Obiefune's father died when she was a child. By the time she was qualified as a library assistant and nearing forty she felt that her life was falling apart: her mother had just died, she'd lost her job and her landlord had unfairly evicted her. Then she met the wandering Time Lord known as The Doctor, and her life changed forever when she agreed to travel with him in his TARDIS. She has reservations about the Doctor, as she disapproves of his tendency to run away from problems. However, she is slowly starting to see the universe from his point of view, as he is starting to see it from hers.
The evil Talent Scout from SERVEYOUinc made Alice briefly think that her mother had returned from the dead, before she used her intelligence and strong moral sense to work out that the simulacrum she was presented with was not her mother. This left her feeling more isolated and depressed than ever, but she was able to find some measure of peace when SERVEYOUinc was defeated.

Powers and abilities
Abilities
Good with libraries; can fly a two-seater spacecraft.
Strength level
Has enormous strength of character. Is also quite physically fit.
Weaknesses
Hasn't passed her driving test.

Paraphernalia
Transportation
The TARDIS; the Doctor's car Bessie (transformed by the TARDIS into a monster truck); the Infinite (a two-seater spacecraft); the Moonburst Mobile™.
Weapons
CO2 fire extinguisher; sword (borrowed from the Squire); once shot someone in the bum with an airgun.
Links
Discover and Discuss
Community content is available under
CC-BY-SA
unless otherwise noted.