Alec Trench R.I.P.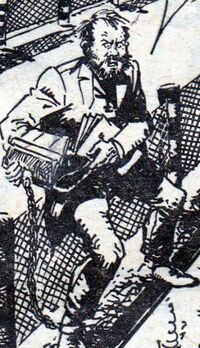 Current alias
Alec Trench R.I.P.
Characteristics
Unusual features
Occasional zombie
Status
Origin
History
Alec Trench was a failed scriptwriter for 2000 AD who attempted suicide after getting 1,000 rejection slips from editor Tharg. He chained himself to his typewriter and jumped off a bridge, only to be 'saved' by aliens who wanted a human to experiment on. After a month of torture, Trench tricked the aliens into a death trap and teleported himself back to Earth with the greatest story of his career, but unfortunately materialised in the air above Kings Reach Tower, where 2000 AD had their offices. Tharg printed Alec's story, but he didn't live to see it published after falling over 20 floors.
Years later, Alec Trench was eventually resurrected as a zombie.
Eventually, after numerous deaths and resurrections, Alec saw a psychiatrist who revealed to him that he was not, in fact, a real person, but a creation of some maniac writer. Trench refused to believe this and escaped the psychiatrist's office, but was immediately shot dead by a rampaging robot.

Notes
Alec Trench was an early pseudonym of Alan Grant.

Trivia
Trench became something of a minor cult figure after his "death," his name and image repeatedly recurring in Tharg stories for several years with various captions including:
"Remember Alec Trench"
"Alec Trench: Do You Remember Him?"
"Alec Trench: Do You Really Remember Him?"
"Alec Trench 1949-1979 Hardly Missed"
"Was He a Saint? Trench"
"A.Trench: Man...Myth...or Magic?"
"Alec Trench Our Inspiration"
"A. Trench the Writer's Writer"
"Alec Trench Truly Zarjaz"
"Alec Trench A Real Brammer"
"A. Trench Shakespeare?"
"A. Trench HIM!"
"Alec Trench: His Spirit Lingers On."
A grave marker bearing Trench's name appeared in the war series Darkie's Mob in Battle Picture Weekly. Alec Trench was also mentioned in the 'Damage Report' of 2000 AD prog 1934.
Links
Fan-Art Gallery: Alec Trench
Discover and Discuss