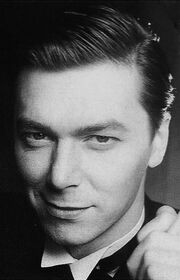 Alan McKenzie (alias script droid Mac-2), whose website can be found
here
, wore the mantle of
Tharg
in 1994 when he served as the editor of
2000 AD
. (Then Tharg found out and made him give it back.) He started his comics career working at
Portman Distribution
on licensed Marvel reprints including
Castle of Horror
and
Tales of Terror
, then moved to
Marvel UK
, for whom he edited the
Starburst
,
Cinema
,
Marvel Super-Heroes
,
Savage Action
and
Doctor Who Monthly
magazines, amongst others, before leaving them in 1985 to write comic strips for
Doctor Who Monthly
instead (earlier, he'd also written several
Night Raven
text stories under the pseudonym
Maxwell Stockbridge
, which was also used at times by other writers including
Alan Moore
).
McKenzie joined 2000 AD in 1987 and worked on many series for them, including episodes of Tharg's Future Shocks (in common with every other British comics artist/writer around in the 1980s), The Journal of Luke Kirby, Moonrunners (which he co-created), Bradley, Mean Arena, Vector 13, Universal Soldier, Brigand Doom, Tales from Beyond Science, R.A.M. Raiders and Chopper. He has also written three non-fiction books. His noms de plume include Sonny Steelgrave and Sydney Falco, and it's strongly suspected that he was actually the individual behind 2000 AD's supposedly glamorous female record reviewer, Roxilla (McKenzie's other passion in life being dance music).