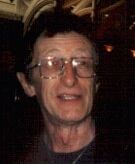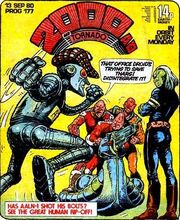 Alan Grant (born 1949) is a Scottish comics writer best known for his extensive work on numerous characters and strips including Judge Dredd, Robo-Hunter, Strontium Dog, Bad City Blue and Mazeworld for 2000 AD, often in partnership with John Wagner and sometimes using the pseudonym T. B. Grover.
Grant also wrote the first of Tharg's Time Twisters. He was editor of 2000 AD from 1978 to 1980, when he resigned due to personal issues with publishers IPC and in order to devote his time to freelance writing (during this time, he had a fictitious alter ego, the robot Aaln-1, who was supposedly Tharg the Mighty's assistant editor on the comic).
Grant started his career in comics as an editor at DC Thomson in 1967 before moving from Dundee to London in 1970 to work for IPC, and his other British comics work has included Tarzan and strips in the Judge Dredd Megazine, Star-Lord, Toxic! and Eagle. He is the co-creator of cult character The Bogie Man, and has also worked extensively in America for publishers including Marvel, Epic (on The Last American, with Wagner and Mike McMahon), Dark Horse and DC Comics, being especially associated with Batman. He is the owner of the publishing company Bad Press Ltd.
Other noms de plume
Community content is available under
CC-BY-SA
unless otherwise noted.