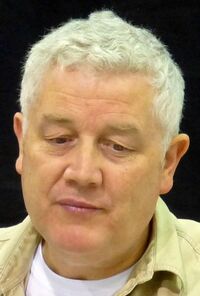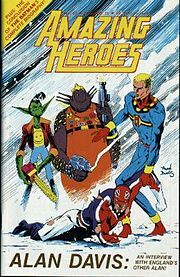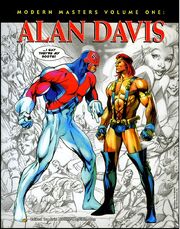 Alan Davis (born 18th June 1956) is a comics artist best known for his work on various superhero titles. He began working for Marvel UK in the early 1980s, with his big break being on the revamped Captain Britain strip in Marvel Super-Heroes Monthly in collaboration, first with writer Dave Thorpe, and then with Alan Moore (his only previous published work for Marvel had been the cover of Marvel Action #1). Davis designed Captain Britain's second costume, which has become arguably the version most associated with the character.
Davis and Moore would for a time have a successful partnership working together not only for Marvel UK (including on Star Wars: The Empire Strikes Back) but also for 2000 AD on D.R. & Quinch (Davis also drew Harry Twenty on the High Rock for 2000 AD) and for Warrior magazine on Marvelman. The two later fell out as a result of creative differences and Moore's refusal to allow their Captain Britain series to be reprinted in America, denying Davis royalties as a result. The series was eventually reprinted several years later.
Following Moore's departure from Captain Britain, Davis briefly wrote the strip before collaborating on a further run with new writer Jamie Delano. In 1985, Davis successfully broke into the American market, working for DC Comics on Batman & the Outsiders and later Detective Comics (also on Batman). In 1987, he began working for Marvel Comics and, after collaborating with writer Chris Claremont on a couple of X-Men and New Mutants stories, became the original artist on Claremont's long-running series Excalibur, which teamed Captain Britain and his girlfriend Meggan up with a group of former X-Men. He also created the quirky superhero book Clan Destine for Marvel UK.
Davis has continued to work extensively for both DC and Marvel, on such characters as the X-Men, the Avengers, the Legion of Super-Heroes, the Fantastic Four, the Justice League of America, Wolverine and Killraven, as well as on a second series of Clan Destine. He frequently collaborates with inker Mark Farmer. He more recently worked on the Guardians of the Galaxy: Mother Entropy series, as well as The Infinity Entity, a limited series starring Thanos and Adam Warlock.
Praise
"Without question, Alan Davis stands in the top rank, among the very best. Story-telling, characterisation, draftsmanship, imagination — he not only excels in every category, he gets better as he goes along... On top of that, he's one of the nicest, most considerate of people to work with — and that's a rare charm in an industry where unbridled lunacy is the norm." (Chris Claremont, Captain Britain (trade paperback) Vol 1 1.)