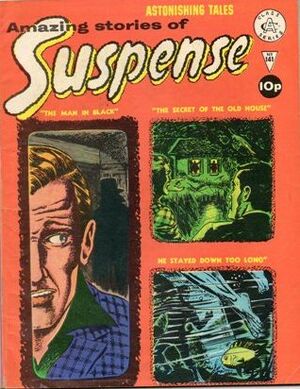 Background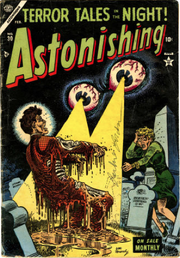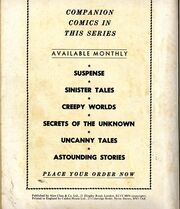 Alan Class was a British publisher active between 1959 and 1989, owned by Alan Class (hardly surprisingly). It specialised in digest-sized anthology titles reprinting US material (mostly from the 1940s to 1960s) from publishers including Charlton, Timely/Atlas, Marvel, Red Circle, Fawcett, Archie, ACG and King Features, including a wealth of material drawn by
Jack Kirby
and
Steve Ditko
. While continuing characters such as
Spider-Man
,
Thor
,
The Avengers
,
the Fantastic Four
, the
X-Men
, the Fly, the Jaguar, Captain Atom,
Ant Man
and
Nick Fury
would appear occasionally (albeit in non-continuing stories), most of the Alan Class titles would typically feature one off horror or science fiction stories.
Publications
A full catalogue of the Alan Class titles seems unlikely to ever appear as most of them had no date of issue (a deliberate move to increase their shelf life) and many stories were reprinted several times in different titles (or, indeed, in the same title; see Uncanny Tales Vol 1). Unsold copies were returned to Class, who would then re-release them later, during the summer holidays when more children were around in the holiday resorts and seaside towns and their parents could be relied upon to buy comics to keep them quiet. Over its three decades of existence, Alan Class published approximately 1455 comics in 26 separate titles including six core titles (Astounding Stories, Creepy Worlds, Suspense, Sinister Tales, Uncanny Tales and Secrets of the Unknown) and many short run or one-off titles including Uncensored Love, Blazing Trails, Out of This World and Journey into Danger.
Dissolution
In 1963, they bought the back catalogue of L.Miller & Son, but by the late sixties they had lost the rights to most of the material from larger publishers such as Marvel, and were sued by King Features over publishing rights to their characters. Consequently, the range became far more limited in the 1970s and Class finally ceased trading in 1989 as he was unable to compete with the rise of the specialist comic shops.
In 1976, in a departure from his usual M.O, Alan Class published a short run of an original title, Ally Sloper, featuring the now obscure but once hugely popular character from the 1800's. Overseen by comics historian and Sloper fan Denis Gifford, it lasted just four issues.
Gallery
Community content is available under
CC-BY-SA
unless otherwise noted.