Al the Beast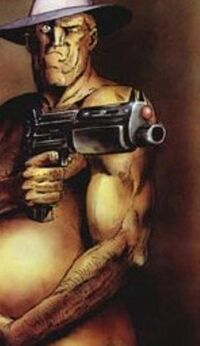 Current alias
Al the Beast
Relatives
Wanda (wife); Don Luigi Sarcoma (father-in-law); two kids
Base of operations
Chi-Town (future version of Chicago)
Characteristics
Unusual features
Occasionally pregnant
Status
Education
The mean streets of Chi-Town
Origin
History
So, Al Bestardi is watcha call a made man, know what I mean? He is a man who commands respect in Chi-Town, he is Don Luigi's number one guy, he is married to the Don's daughter (which is kinda a mixed blessing, but hey, inta every life a little rain must fall, right?) and ain't nobody messes with Al the Beast! And it's all real swell, Al is living the high life.
Until the Don announces he needs a grandson, to know that the family line is in safe hands. And Wanda is having none of it. Which should really have set alarm bells ringin' for Al, as the Don is very, very indulgent of his daughter. So suddenly, Chi-Town's toughest is facing the prospect of being one mean mother in more ways than one! Yep — Al is ordered to carry the baby, becoming the world's first pregnant mobster! As you can imagine, this does Al's rep no good at all. What's worse though, Al carries it off so well, it doesn't end at one...

Powers and abilities
Abilities
Gestation.

Notes
Al was the lead character in the series Al's Baby.
Links
Discover and Discuss
Community content is available under
CC-BY-SA
unless otherwise noted.