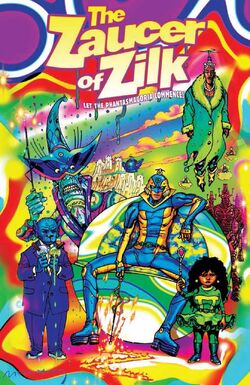 Al Ewing is a British comics writer who was born in 1977 and is not yet dead.
2000 AD
For 2000 AD he has written:
For the Judge Dredd Megazine Ewing has written more Judge Dredd, Tales from the Black Museum and Tempest. He has also contributed pieces to Doctor Who: The Eleventh Doctor (published by Titan Comics), FutureQuake, The End is Nigh, Solar Wind and the fan magazines Dogbreath and Zarjaz. Al Ewing has written six novels and occasionally DJs as DJ Christ.
Marvel
Al Ewing has also worked for Marvel Comics. He has worked on Ultimates and more famously is the current (and only) writer on Immortal Hulk. Both of those titles are yet to be reprinted in Marvel UK, but his work on Avengers: No Surrender and No Road Home has been reprinted in Avengers Universe. Some of his work has gone on to win the Best Continuing Series of 2018.
Community content is available under
CC-BY-SA
unless otherwise noted.