Adolf Kemper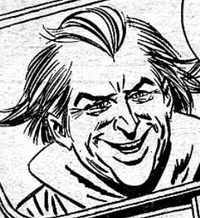 Base of operations
The Devil's Triangle
Characteristics
Status
Origin
Place of death
Devil's Triangle
History
Once a U.S Weapons expert, Kemper lost his mind after being fired and decided to go full on Bond villain by building a giant undersea base that resembled the Capitol Building. With it he hoped to take over the world and shot down and jets or boats that strayed to close to his base. When M.A.C.H ONE aka John Probe investigated, Kemper captured him and brought him into his base. This proved a fatal mistake as Probe escaped, ran rampant around the base before confronting Kemper. The madman tried to hold off with a electric ray, but Probe used a sheet of metal to deflect the ray back at Kemper, killing him.

Paraphernalia
Transportation
His base.
Weapons
Electric ray.
Links
Discover and Discuss
Community content is available under
CC-BY-SA
unless otherwise noted.