Adolf Hitler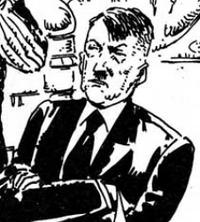 Aliases
Adolph Schicklgruber
Relatives
Alois Hitler (brother); Bridget (sister-in-law)
Base of operations
Nazi Germany; formerly Liverpool
Characteristics
Unusual features
Moustache
Status
Origin
Origin
Normal human birth
History
Adolf Hitler apparently lived in Liverpool with his brother and sister-in-law from 1912 to 1913 and suffered delusions in which he went on an ill-fated quest for the Holy Grail. He later returned to Germany and masterminded the rise to power of the Nazi party, becoming directly or indirectly responsible for all the atrocities of World War II (apart from the USA dropping two nuclear bombs on Japan, which was totally their own idea). Towards the end of the war, he attempted to fake his own death in order to escape justice, using a double named Horst Wiener who committed suicide in his place. Hitler himself, however, was abducted before he could escape and taken into the future to stand trial for war crimes by mutant bounty hunter Johnny Alpha and his partner Wulf Sternhammer.

Powers and abilities
Weaknesses
Totally insane.

Notes
Links
Discover and Discuss
Community content is available under
CC-BY-SA
unless otherwise noted.