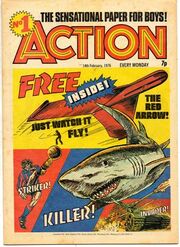 Action
was a ground-breaking title originally published by
IPC
from 14th February to 16th October 1976. The brainchild of
Pat Mills
, the title, an anthology comic like all of IPC's output, included strips from a variety of genres. They included
Hook Jaw
(a strip about a killer shark drawn by
Ramon Sola
, very much inspired by
Jaws
), the World War II strip
Hellman
,
Dredger
(a story about a secret agent inspired by the movie
Dirty Harry
),
Sport's Not for Losers
,
The Running Man
,
The Coffin Sub
and
Blackjack
(a story about a boxer who is gradually going blind), amongst others.
The comic was criticised for its extremely violent content and was finally cancelled due to an outcry in the press after a colouring error meant that a cover scene of rioting schoolkids (drawn by Carlos Ezquerra) seemed to show a fallen police officer at the kids' mercy. The 23rd October edition, already completed, was never published. The series was relaunched in a watered-down form with many of its excesses curbed from 4th December 1976 and ran until 12th November 1977, though Action Annual (which had launched in 1977) continued to appear regularly until 1985. Action was eventually merged with Battle Picture Weekly, which became Battle Action after the merge.
The early success of the hard-edged Action inspired Mills to create 2000 AD, reasoning that the principal reason Action had been criticised was because it depicted violence against humans, so violence against aliens and robots would probably be less controversial. Action's full history was recounted and examined in detail in the book Action: the Story of a Violent Comic.
In March 2020, Rebellion brought the title back for a brief reunion tour with the Action 2020 Special.
Community content is available under
CC-BY-SA
unless otherwise noted.