Ace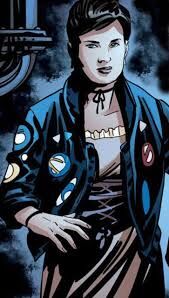 Real name
Dorothy Gale McShane
Relatives
Audrey Dudman (mother); Kathleen Dudman (grandmother); Harry McShane (father); Liam McShane (brother)
Base of operations
Mobile
Characteristics
Status
Origin
History
A streetwise teenager with serious issues, Ace was picked up by The Doctor on Iceworld after being deposited there by a freak time storm. It later turned out that she was actually a pawn of an evil intelligence from the dawn of time, but she didn't let it get her down. She travelled with the Doctor for several years (sometimes in the company of archeologist Bernice Summerfield), and also later spent some time as a spacefaring mercenary according to some accounts.
There are contradictory accounts of Ace's eventual fate. According to one, she was killed in an explosion while destroying the alien Lobri (Doctor Who Magazine comic strip Ground Zero). Another appears to suggest that she eventually founded a charity called A Charitable Earth (note the initials).

Powers and abilities
Strength level
Human female who gets regular exercise.
Weaknesses
Inclined to use totally unbelievable slang terms.

Paraphernalia
Transportation
The TARDIS.
Weapons
Nitro Nine, an explosive compound of her own design which she stores in old deodorant cans. Also occasionally uses a supercharged baseball bat.

Notes
Ace's death in the Doctor Who Magazine comic strip was crafted to deliberately divorce the comic strip's continuity from that of the New Adventures novel range, which until then it had run in tandem with for some time. The canonicity of this story is highly dubious.
Ace was played on TV (and in various audio adventures and video spin-offs) by Sophie Aldred.

Trivia
Ace was named after Dorothy Gale, heroine of The Wizard of Oz.
Links
Discover and Discuss
Community content is available under
CC-BY-SA
unless otherwise noted.