Abslom Daak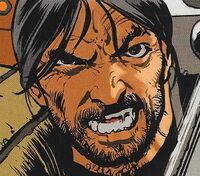 Relatives
Clone (deceased)
Base of operations
Mobile
Characteristics
Status
Origin
Origin
Normal human birth
History
Abslom Daak was a convicted mass murderer on Earth of the future, who was given a choice of sentence; face summary execution, or be sent into space on a suicide mission as a 'Dalek Killer', and take as many Daleks with him as possible before being exterminated! Daak chose the suicide mission, but found something to live for when he met the woman Taiyin. When Taiyin was killed by the Daleks, a devastated Daak vowed to get revenge by killing "every damned, stinking Dalek in the galaxy!" He gathered a group of old allies, his 'Star Tigers' (Vol Mercurius from Earth, Salander of Draconia and Harma the Ice Warrior), to assist him, aboard the modified attack ship called the Kill Wagon.
Later, Daak's crew were apparently killed and Daak himself seemingly died destroying a Dalek Death Wheel, but it has since been revealed that all of them actually survived. Daak has crossed paths with the Time Lord known as The Doctor several times.

Powers and abilities
Abilities
Killing Daleks.
Strength level
Peak human male.
Weaknesses
Anger management issues.

Paraphernalia
Transportation
The Kill Wagon; the TARDIS; vortex manipulator; one-man warpedo.
Weapons
Chainsword; two blasters.

Notes
A clone of Daak appeared in the 1993 novel Deceit by Peter Darvill-Evans, part of the Virgin Books Doctor Who New Adventures range. The novel references the original Daak's apparent death, which at the time the novel was written had not yet been undone, though his resurrection in the comics came at the same time the novel was published. Daak's clone ended up being accidentally killed by Ace while he was attempting to save her life, because he erroneously believed her to be in love with him. (She fired a weapon to try and free herself from an evil golden cloud that wanted to steal her brain, but the weapon decapitated Daak 2.0 as he was rushing to her aid.)
An image of Daak appears on a computer screen in the 2014 televised Doctor Who episode Time Heist, supposedly as one of the criminals who have in the past tried to rob the Bank of Karabraxos. This marks the first time a character from the Doctor Who comic strips has appeared in the TV show.
Daak was originally owned by Marvel UK but like several of their Doctor Who related characters was later sold to Panini. He has been used by others, including Virgin Books, Titan Comics and the BBC themselves, by arrangement with his owners (though Titan apparently initially didn't realise they needed permission from Panini to use him, which seems to have caused a bit of friction) .
Daak first appeared in his own strip in Doctor Who Weekly #17-20, then in Star Tigers in DWW #27-30 and Doctor Who Monthly #44-46. He reappeared in the main Doctor Who strip in DWM #152-155 (Nemesis of the Daleks, 1989) and then again in DWM #197-202 (Emperor of the Daleks, 1993).
Daak also starred in a spin-off vinyl record, The Theme from Abslom Daak-Dalek Killer, composed by Dominic Glynn and performed by The Slaves of Kane. It was originally released on a promotional flexi-disc given away free with DWM, and later released as a single.

Trivia
Daak made a brief cameo appearance in an Axel Pressbutton story in Warrior magazine, encountering Axel at a bar. Steve Moore wrote both characters.
Links
Discover and Discuss
Community content is available under
CC-BY-SA
unless otherwise noted.