A.H.A.B.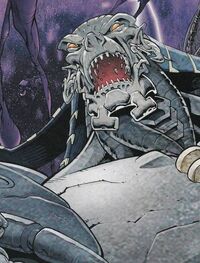 Characteristics
Unusual features
He's a robot
Status
Origin
History
The eponymous protagonist of the comic strip A.H.A.B. was a robot inhabited by the uploaded consciousness of a dead starship's captain. He was on a self-appointed mission of vengeance against the Kohenyu, gigantic extra-dimensional alien creatures whose brain chemistry potentially provided the only antidote to a deadly virus threatening to wipe out humanity in 2086. A science team led by a woman named Ishmael ('Izzy') had been sent to find the cure, but A.H.A.B. had priorities of his own...

Powers and abilities
Strength level
Superhuman.

Paraphernalia
Weapons
He is a weapon.

Notes
A.H.A.B. appeared in 2000 AD progs 1387 to 1395. It was later reprinted in a collected edition given away free with Judge Dredd Megazine #333.
Links
Discover and Discuss
Community content is available under
CC-BY-SA
unless otherwise noted.