'Erbert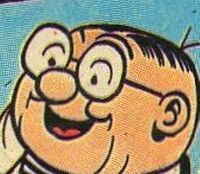 Base of operations
Bash Street School
Characteristics
Status
Education
Bash Street School
Origin
Origin
Normal human birth
History
'Erbert is the fourth student of the seven pupils of Bash Street School's Class IIB. He is extremely shortsighted, and for some reason has the haircut of a middle-aged bank manager. It is not known whether or not his H-dropping is an indicator of socio-economic deprivation.

Powers and abilities
Abilities
Seditious, anti-authoritarian behaviour; sedulously ignoring all attempts to educate him.
Strength level
Juvenile human male.
Weaknesses
Remove his glasses and he's virtually blind.

Paraphernalia
Equipment
His glasses.
Transportation
The Bash Street Kids sometimes steal Teacher's car. It never ends well.
Links
Discover and Discuss
Community content is available under
CC-BY-SA
unless otherwise noted.